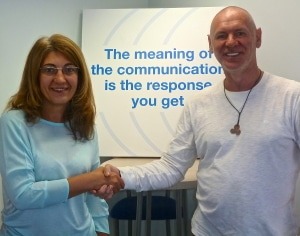 Who NLP World are and What we Stand For
NLP was born out of a vision to introduce and develop NLP training and development in the UK. We wanted to make training more intimate and integrate our sessions on a more personal level while at the same time being technically precise in a manner that will produce real and tangible results. Our ambition to get results for our clients by creating networks of people other than having participants who were seen as disposable is working for us s well as all the individuals, groups and companies that train with us.
Why train with NLP World?
Our high quality NLP training courses are offered at very competitive rates and our fast track approach to training ensures that you are able to get the best of the courses in as little time as possible since we are aware of how valuable your time is. Our standard training package is inclusive of a comprehensive pre-course home study pack that also includes an iPod or audio CDs and DVDs that are specially designed to provide you with theory as well as practical demonstrations of the techniques.
This specially designed standard program coupled with our personalized and intimate approach to training ensures that the delegates who come into this training with intentions and goals in mind are able to complete the NLP World training with better knowledge and the confidence to apply the knowledge than people who attend longer courses. We offer business NLP trainings as well as the standard NLP Practitioner training that runs for a period of 7 or four days, and the Master Practitioner Training which runs for a period of 3 x four days with an additional two days outside of the training environment.
Aside from individual training, we also offer group sessions although we limit the number of members to a group at 20 as a way to ensure that you get personal attention from the trainer. In group training we also have one assistant for every 3 or 4 participants to ensure that the participants fully utilize the materials and concepts. Our training sessions are often followed by close follow up where we offer continual learning and support and invite you to ask all questions you have related to NLP. As part our strategy to support continual learning, we have a seminar that takes place once a month where we impart new skills to participants, improve on existing skills and offer participants the opportunity to have their questions answered.
Testimonials:

Here's the second, to give you more of the 'flavour' of a course…..

At NLP World you get the opportunity to train with Terry Elston and Adam Sprackling both of who have over 15 years experience in NLP coaching and training having worked with a variety of different clients. Terry is a master of Time Based Techniques and Hypnotherapy and has worked with Tad James, David Shepherd, John Overdurf and other well respected individuals in NLP.
NLP World believes that there is no activity that we involve ourselves in that doesn't lead to learning and development and we all have the responsibility to create conditions that promote learning. The techniques utilized by NLP, Time Based Techniques and Hypnosis re powerful tools to aid us in creating the conditions to get what we want out of life.
We have also developed a variety of MP3, CD and DVD products for those who don't want to take training just yet but would still like to utilize our techniques.