If you are looking for fully accredited internationally recognised NLP courses in Cape Town, South Africa, NLP World provides these in three areas.
Click here for your accredited NLP Practitioner Cape Town course:
Click here for your accredited NLP Master Practitioner:
Click here for your NLP business training, tailor made for your corporate needs
Where do we run the NLP training?
At The Andros in Cape Town, a five star establishment, with five star service and five star meals.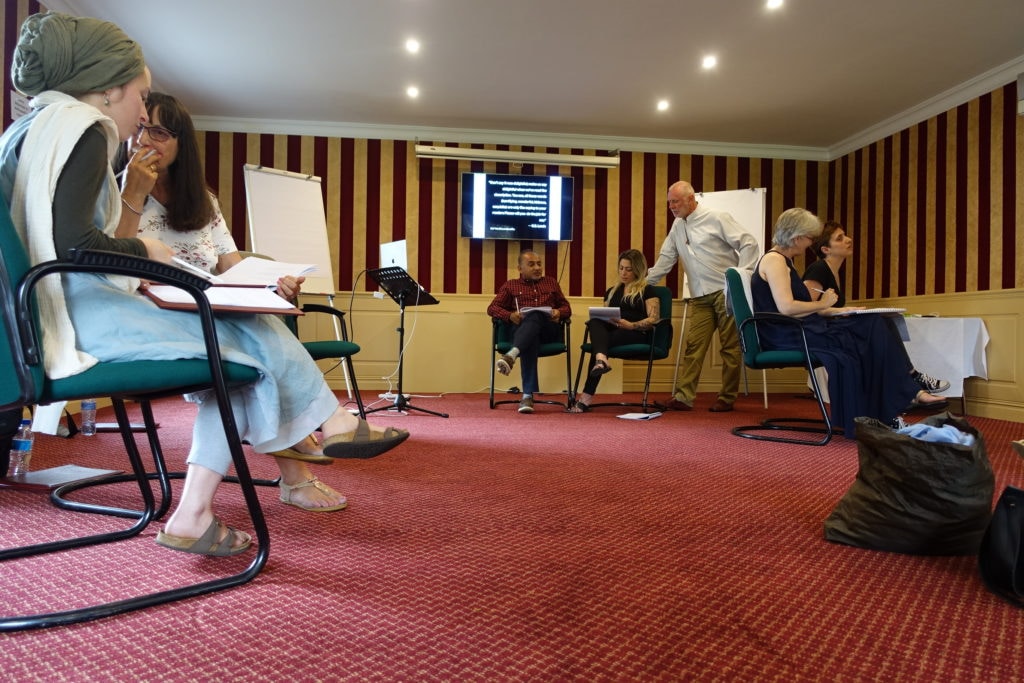 ---
Testimonials
Thank you, Terry, for training me so very well on the Master NLP course… I think you are the most highly rated external trainer/coach I have experienced in 20 years.
"Wow! What an absolutely fantastic and life changing experience. Your NLP training far exceeded my expectations. The course deepened my understanding of coaching and how to work with clients in a most profound way. Not only did I learn practical tools for my business coaching practice, but I have also learned how to transform my own life."
Alida Niehaus – Cape Town

"NLP has just given me so much confidence and disposed of many of my limiting beliefs, I feel like I am burning up with energizing life force. Thank you for your passion in sharing this knowledge. I feel privileged to have shared this part of my personal development with you and the amazing team that was present".
Candice-Lee – Cape Twon

"I am aware of endless possibilities……I know there has been lasting change….like my neurology has been rewired….I can feel it and see it!! I feel calmer, like there is more space, I am more present and aware on a very consistent basis, I am actually having more fun when I engage in the relationships that I was previously struggling with, I really am more resourceful and come up solutions for challenging situations with much less emotion and more confidence. The best part is I just keep discovering new stuff!
Cathy Carstens -Cape Town
Benefits of the NLP Practitioner course in Cape town with NLP World
Fully accredited and Internationally recognised (ANLP, AIP)
Three certifications in one course: NLP, Time Based Techniques and Hypnosis
Vastly experienced trainers who work internationally with blue chip companies,governments and inside education, so you have a huge knowledge pool included in your training
Click here for more information on the NLP Practitioner course:
Click here or registration page for your NLP Practitioner course (same price deposit four day and seven day)
What can you do with Time-Based Techniques?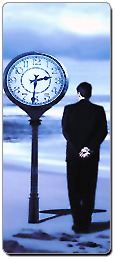 With thanks to John Overdurf and Julie Silverthorne for their generous offer towards NLP World to use the name and processes of TBT:
Release negative emotions like anger, sadness, fear and guilt quickly and comfortably. Once shown how to use Time-Based Techniques, this amazing procedure can take as little as 10 minutes to release a negative emotion or limiting belief ! Deleting and releasing limiting decisions like "I can't make a lot of money", "I can't have the relationship I want", and any other "can't" that holds you back.
Reconstruct your own and others' thoughts to remove phobias, unwanted beliefs and old habits quickly and simply using Time-Based Techniques.
Learning the secret to creating your future, how to talk to your deeper mind or unconscious mind in the way it understands and responds.
Karma busting process, you won't have to be shackled by past experiences and patterns. Your clients will be amazed at what you can do for them, in business and in Therapy!
Benefits of Hypnotherapy Practitioner Certification
Learn how the unconscious mind really works- allowing you to fully understand why some important messages get through and others don't.
Learn verbal and non-verbal suggestion – so you can control and direct conversations more effectively.
Induce deep mind states using fantastic hypnotic inductions, therefore accessing the power of your clients' unconscious minds as well as your own.
Discover the history of Hypnosis – how the myths evolved, what the truth is about who has the power and see where the foundations came from, way beyond traditional psychology.
Utilize deep mind states for healing.
Structure post-hypnotic suggestions – enabling direct commands to be used in business, meetings and for healthy clients.
Discover how hypnosis is all part of everyday life, for example how the moguls of advertising are using it all the time.
What do our students say about Hypnosis?
"I loved the hypnosis part of the course. For a start, I hadn't expected to laugh quite so much or for so long, and had also not realized that hypnosis would go so far beyond my expectations. I found it to be an immensely powerful and very gentle treatment that makes profound change possible in a short time. And besides all of this, it also feels great to be hypnotized!"
Greg Southey, IT Business Consultant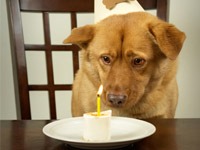 With the internationally recognised NLP certification, you can practise in South Africa, UK, USA, Australia, practically anywhere in the world. Upon completion of our course you will be awarded with NLP certification (accredited by ANLP in the UK and AIP in the USA) which includes the hypnosis certification (fully accredited by AIP).
"As a life coach, I wanted to be educated in areas where I needed more or different knowledge and insight. On a personal level I wanted powerful shifts that would support me to be an excellent coach with a more comprehensive take on the intricate yet obvious nuances of life itself. I got all this and so much more. It is clear that Terry is a master in the field of NLP and its related areas. In his conversational manner, he expertly executed the content and I was completely captured for seven days!"
Helen van der Merwe Life Coach Cape Town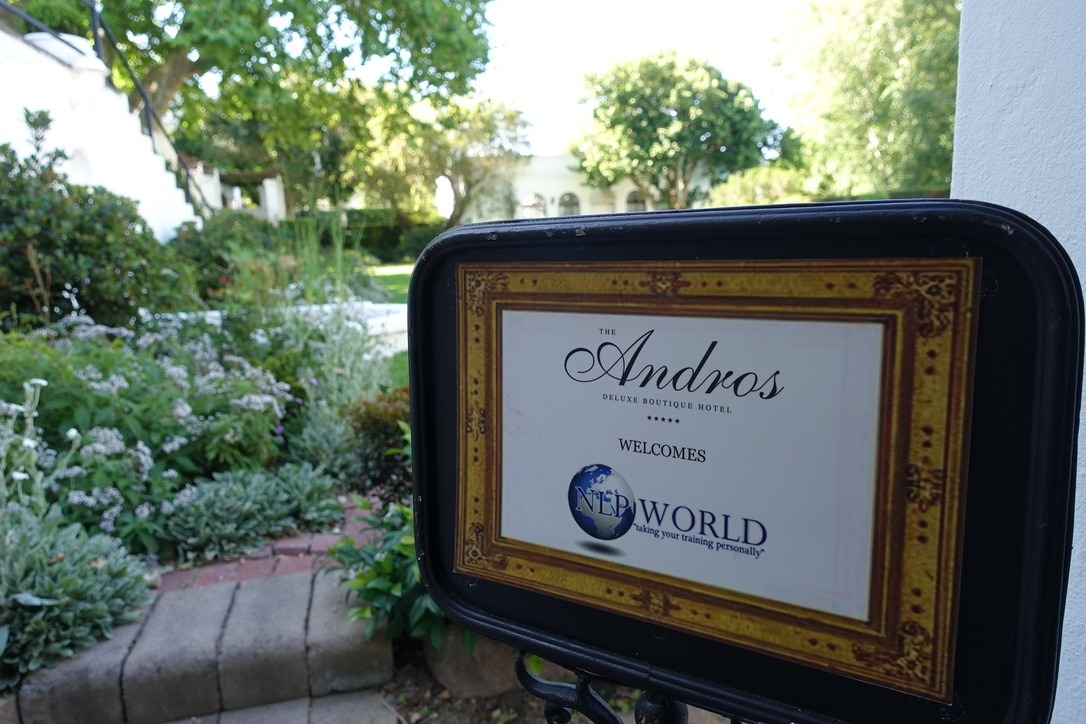 The Andros Guesthouse, Claremont
What will you get from the all new Master Practitioner course SA with NLP World?
This is a nine day course in the training room, (you also have an assignment outside of the training room for 2 days).
Click here for all the information you need on the Master Practitioner course

Course description:

Benefits of this internationally recognized course:
Fully accredited and recognised Internationally
Incredible application to the results you want in life
NLP World works to assist you to get what you are working towards in life – even after the
course ends
Amazing self development aspect to the way the courses are structured

To begin, we view reality through the eyes of language… Advanced communication skills including Quantum Linguistics!
Master Practitioners are masters of language. What you'll learn is the natural way that language follows the laws of Quantum Physics; now we call it quantum linguistics! Now you can blow out problems the way that your body would have done it naturally anyway. You'll have a chance to experience the void – a place where no problems can exist – an exciting prospect!
Day three and four we take a trip into the most useful piece of training you'll ever come across…Values !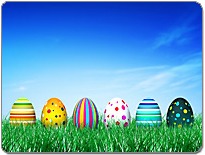 Values
Values are what is important to us. That's not rocket science, yet when you learn that they are all unconscious and dictate what you and others do in life; you'll find out how important they are to learn about. During this section you'll learn how to elicit values easily during a conversation and how to change them when they do not provide you or your clients with consistent or congruent results.
If you want details of the full NLP Master Practitioner training click here, otherwise you can click on the registration button below to start the process.
Course description continued: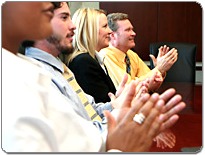 Presentation Skills
You will know how to read a room and react accordingly. Master presenters have the ability to be themselves, whilst delivering your message to many different personalities at once. Presentingis the number two fear in the world; when we show you how easy it is the NLP World way, you may want to get out there immediately and start presenting! The power of a presenter comes before he or she even says one word; we show you these secrets and give you feedback that will allow you to gain group rapport in any circumstance, regardless of the content you are delivering. We also show you sleight of mouth patterns that reframe awkward situations in seconds.
Another viewpoint:
"Thank you, Terry, for training me so very well on the Master NLP course…" I think you are the most highly rated external trainer/coach I have experienced in 20 years"

Robin Johnson HR Partner, OvationXL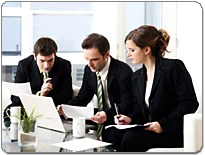 Modelling Project
Anything you can do, so can I. We show you how to master the process of modelling.
Coaching
Coaching has become a buzz word over time and more people are getting involved in this area. Coaching is a term that has no substance to it unless there is some kind of structure that you can follow. We show you that structure and how to develop yourself in the market place, how to get business coming your way and how to make sure you are ahead of the competition.
We will also show you advanced conversational anchoring , advanced submodalities and sleight of mouth patterns.
If you want details of the full NLP Master Practitioner training click here, otherwise you can click on the registration button below to start the process.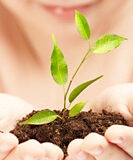 NLP in health and healing
We have groundbreaking new material that has only become available recently.
This revolution in health and healing will leave you with a lasting impression for the rest of your lives. You will never be able to think of a disease in the same way again! The section links in with NLP very nicely as the notion of your mind and body being connected is the main theme. We also have an MP3 and CD selection for health and healing plus a section on this groundbreaking new diagnostic tool, which you now know as Meta-Medicine.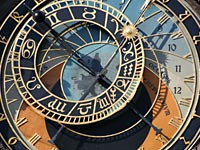 Time-Based Techniques
Time-Based Techniques are growing in popularity as a way of clearing out the cupboards of the past. On the Master Practitioner course you will learn how to time travel inside the model of Time-Based Techniques; yet with a more conversational slant to it.
We also have some new techniques as shown below:
New regression technique – with content !
Drop down through technique
Advance Anxiety remover
Dealing with major health and healing issues
Conversational Time-Based Techniques
Hypnotherapy Master Practitioner Accredited by the AIH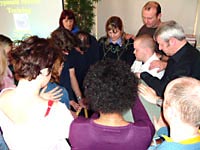 We take you from where you are on a fantastic journey through your unconscious mind by trust and skill. The point of this section is to allow yourself to trust your unconscious mind to the extent that your perceptions increase beyond the scope of what is known as telepathy, to a new dimension where you can experiment and play with energy on a deeper level than ever before. We will show you the Dave Elman inductions and George Estabrooks also. There will be the usual laughter and a chance to experience how stage hypnosis works.
You can click here to learn more about hypnosis.
Break-though sessions
Two days of working one-to-one using everything you now know that you didn't before!
This is an incredible experience as the client, yet also it will show you how much value you give as a Master Practitioner and therefore how much you should charge for your invaluable services in the future!
This NLP Master Practitioner training is fully accredited and certified by the ANLP (association of neuro linguistic programming) giving you reassurance that your certification is valued worldwide!
Master Practitioner Training
Click Here For NLP Master Practitioner Course Schedule
If you want details of the full NLP Master Practitioner training click here, otherwise you can click on the registration button below to start the process.
Registration Fee: R6000 (which includes your pre-study and manual download which we send to you). Full price of course R19500.
Upon completion of the Master Practitioner course, you will be awarded with a fully accredited Master Practitioner certification (ANLP & AIP) and Master Hypnosis certificate
NLP Courses in Cape Town – Accredited by AIP, ANLP and Comensa
For NLP Practitioner, NLP Master Practitioner or NLP HR Practitioner SA, contact Terry Elston on terryelston@nlpworldsa.co.za